A quick technical update on the benchmark indices.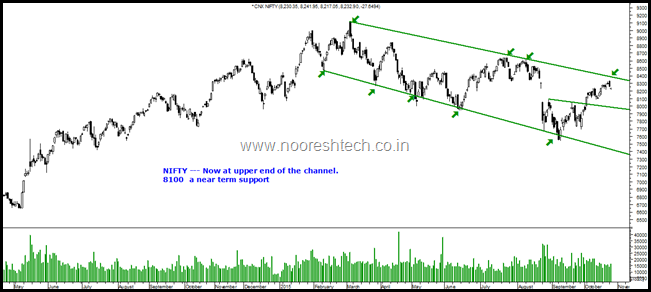 Nifty Technical View
We did cross the 8050 tops indicating a short term trend reversal post the lower tops and bottoms.
Now very close to the upper band of the channel at 8300-8400.
Given that its almost a 10 month channel it cannot be taken out so easily.
Expect a lot of sideways boring period.
8100 a near term support.
Bank Nifty Technical View
Similarly Bank Nifty is also getting closer to the upper end of the channel at 18000-18300.
Near term support at 17400.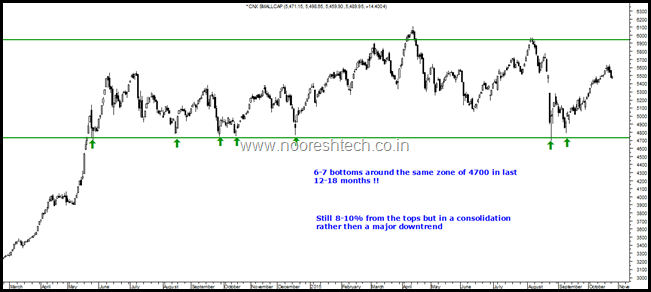 Smallcap Index
Almost same bottoms in all corrections in last 12-18 months,
A good consolidation going on rather then a downtrend given the subdued Nifty.
Shows the action is more on smallcaps.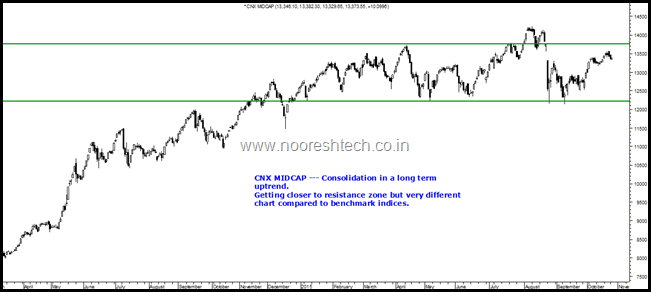 CNX Midcap Index
Good base made in Midcap Index without breaking lows.
Just 4-5% away from all time highs.
Clearly midcaps have performed better and the chart still in an uptrend.
Bottomline - Till the time we do not see a fresh uptrend in Nifty beyond new highs above 8400/8650 there could be a lot of consolidation with stock specific action in midcaps/smallcaps.
We have also launched Analyse India Big Value 3.0 - A product for investment.
Charges Rs 24000
Period of Service - 12-18 months
Payment Link - https://www.instamojo.com/noooreshtech/analyse-india-big-value-30/