In todays post looking at a few stocks which are standing around support levels. Focusing only on Nifty 50 and Nifty next 50 stocks.
The trend is down so its very tough to buy such supports unless one sees price action with volumes. At the same time if they breakdown it can be a quick short trade on the downside.
Generally i prefer to find longer term trend breakouts on the upside and give a skip to such formations like the ones right now in following charts unless i see a similar pattern in Nifty.
Simply put I would be confused to take a trade unless there is a strong follow up.
United Spirits --- Continues to hold on to the 2250-2300 support. Last time i tried to take a pre-emptive trade got a small stoploss hit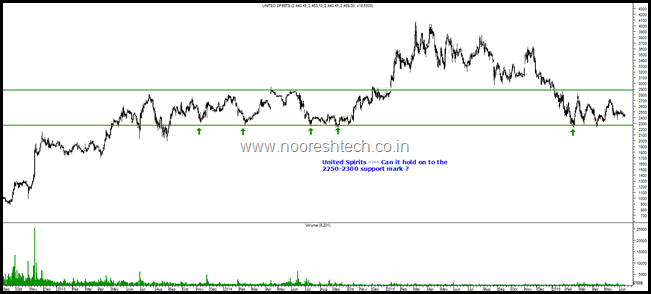 Sun Pharma --- The stock topped out at 1000 + post the block deal and has continued in a downtrend. Will it be able to hold on to the 700 support ?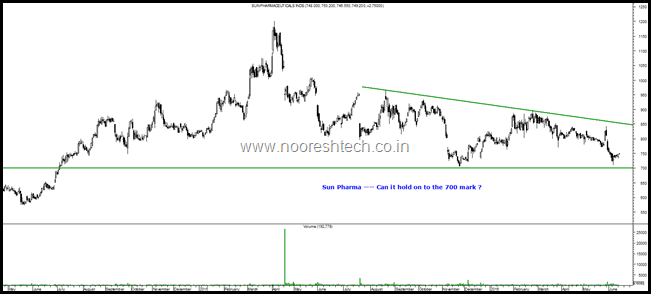 Reliance Industries --- This has been one laggard with multiple tops around 1000-1050 in last many years. In the near term seems a good bounce has started from the support of 940. Will this lead to a new move or break back below 940 ?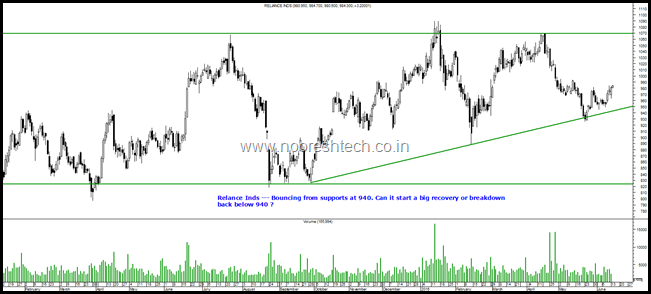 Rcom --- A major wealth destroyer till now. Will it see a major drop below 45 or a turnaround above 55 ? Take your bet when there is price action.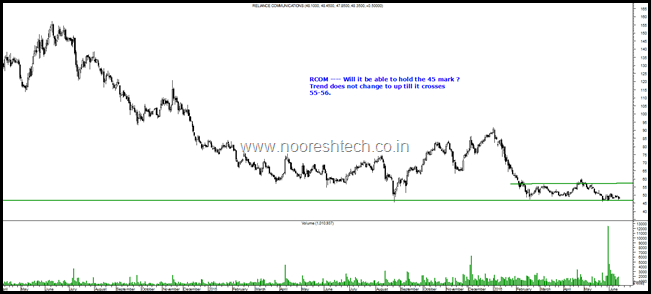 Idea Cellular - Standing precariously at the supports of 96-99. Another telecom on verge of breakdown or revival ? I would prefer to wait.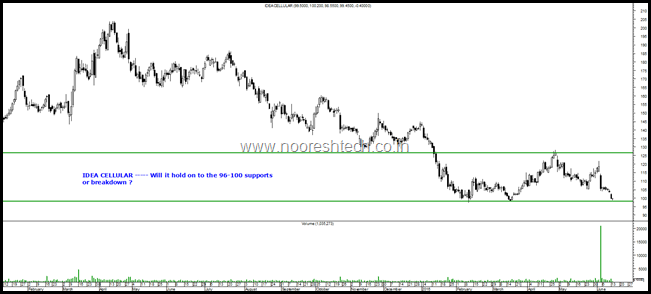 Eicher Motors - A market darling and no return for 1 year from 18-20k last year. Will it be a breakdown below 18000 or revive back to 20k ?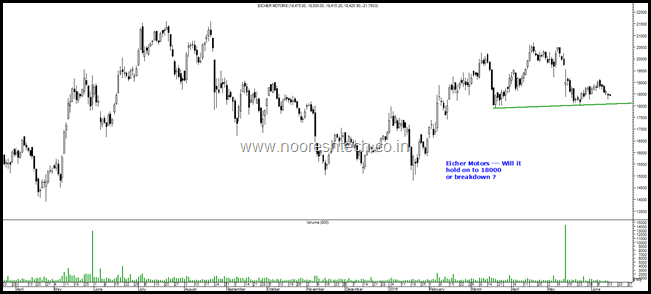 Cummins India - Big doubts on governance but the stock price did not see follow up price action on the downside. Will this be a false breakdown or a major drop below 750 some time later. Tough to say 🙁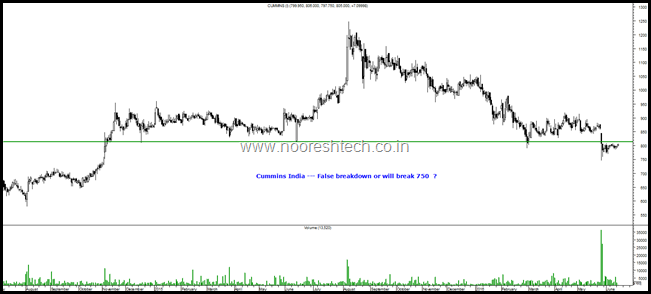 Cadilla --- Consolidating in a range. Will it hold 300-320 ?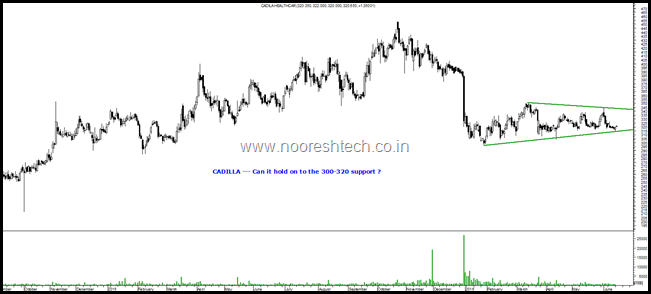 Bharat Forge --- Stock was a market favorite in 2015. But this year or more has been bad. From 1300-1400 to 750 and still on verge of a further breakdown below 720 or a turnaround ?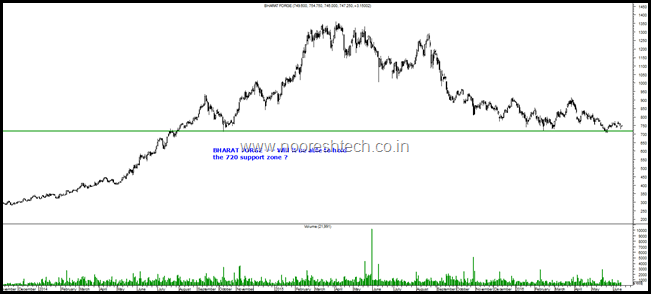 Disclosure - Have not recommended any of the above stocks in our Advisory as a Short or Long but can do so any time on follow up action.
Nooresh Merani
Securities covered above::  United Spirits, Sun Pharma, Reliance Inds, Idea , Rcom, Bharat Forge, Cadilla, Eicher Motors and Cummins India
SEBI Registration disclosure – Investment Adviser ( INA000002991)
Financial Interest:
Nooresh Merani and his family/associates/ analysts do not have exposure in the securities mentioned in the above report/article.
Nooresh Merani and his family/associates/ analysts do not have any financial interest/beneficial ownership of more than 1% in the company covered by Analyst.
Nooresh Merani and his family/associates/ analysts have not received any compensation from the company/third party covered in the above report/article ever.
Nooresh Merani and his family/associates/ analysts has not served as an officer, director or employee of company covered in the report/article and has not been engaged in market-making activity of the company covered in the report/article.
The views expressed are based solely on information available publicly and believed to be true. Investors are advised to independently evaluate the market conditions/risks involved before making any investment decision
Also read the detailed disclaimer – https://www.nooreshtech.co.in/disclaimer