Quick Update on a Previous Post.
A good breakout seen in FMCG Sector as covered in this post - https://www.nooreshtech.co.in/2017/04/sector-in-focus-fmcg-hindustan-unilever-godrej-consumer-britannia-marico-itc-limited.html
Now Marico seems to be on the breakout above 325
Welspun Corp
Lots of tops at 90-95 in the last 1 year and good volumes too.
Also promoters have been buyers recently at 82-83 levels.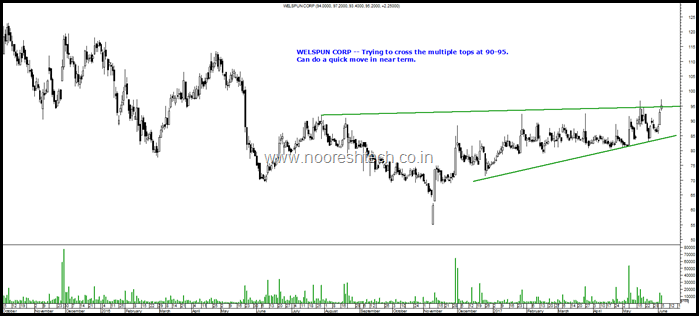 Phoenix Mills - Can it cross the resistances at 440.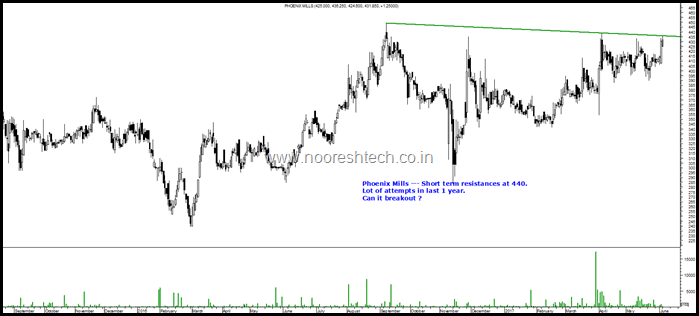 Disclosure - Stock has been recommended in Technical Traders Club at 83-86
Manapurram Finance
After multiple tops at 105 the stock has seen good support at 80-85. Crossing 95 will be a good signal for a trend change.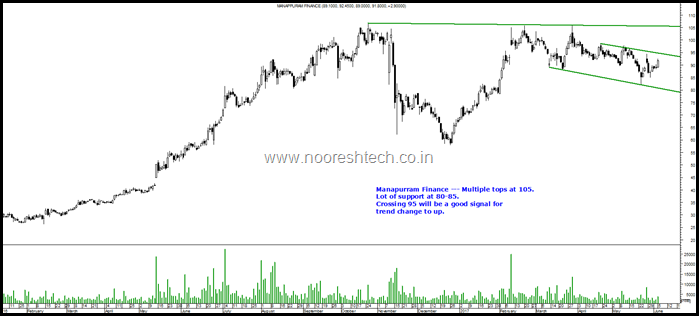 Bharat Bijlee -
The stock has given a breakout from a classical cup and handle formation with good volumes today. Can it rally in near term ?
Disclosure - Recommended in Technical Traders Club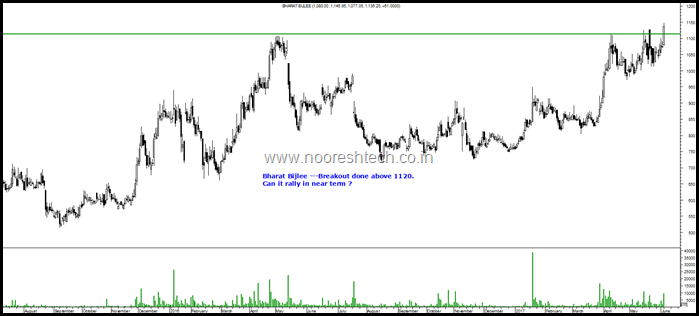 If you are interested in an investment advisory product – Do read !!
What do you get in Big Value 4.0 ?
25-50 investment ideas in a year.
1-4 investment ideas in a month.
Focus will be on companies with decent fundamentals and good potential.
There will be a few trading bets due to market opportunities based on technicals.
A bit of technical analysis for better timing or catching the trend early or in momentum for picking up good companies at good prices.
The normal allocation to one stock would be 2% to start with. So ideally we should have 50 stocks. But in many cases we will allocate more to some stock with max limit of 10-12% to one stock and around will generally be diversifed to a minimum of 20-25 stocks or more.
The accumulation of stocks would be done over the next 1 year so one will be investing systematically and increasing allocation to equity in steps.
We would be focusing on companies based on different investing styles and at times even in companies where corporate governance is changing and valuations are low. Also money would be deployed over a period of 1 year volatility would reduce.
In the long run a diversified stock portfolio can beat the benchmark index returns by a big margin. For example in a study we did for a random portfolio of stocks, outperformed the Nifty/Midcap Index returns over a 10 year period. This period had two rounds of bull/bear cycle. But going into good companies can reduce capital loss in the interim. ( So our returns could also be totally random but we try to make lot of efforts to outperform at lower risks. Do read this post )
We do not focus on catching multibaggers or 10 baggers but it is about finding good risk-reward entries in quality stocks. Pleasant surprises are welcome.
There are no promised / expected /possible returns or possible loss / expected loss etc but the target is 20-30% annual returns along with beating the benchmarks by a good margin and to control risks more importantly.
The motive of this product is to make investors increase their exposure to equities gradually and we will put the full allocation over the next 6-12 months ( starting 1st July ). The updates will continue for 24 months even for people who do not renew. We will launch the Big Value 5.0 after 18 months.
We will generally have an update every few weeks and a portfolio review once in 3-6 months.
Apart from the stock recommendations and updates on the same every quarter we do send Technical View on the Markets on important times ( like at 7000 in February 2016) and other additional research.
What you will not get in Big Value 3.0 ?
Short Term Trading Calls
Derivatives/Nifty etc.
How much do we charge and how do clients need to go about it?
The charges are Rs 35000 ( For 2 years ) .
We will continue to research honestly and recommend to the best of our ability and we do not claim or promise super normal returns.
This is meant for long term investors who have a horizon of 1-3 years and do not get scared by a 20-40% drop in a good company. ( yes that has happened many a times in our stocks and can happen in the future too )
Even traders can deploy some part of their capital into this portfolio with a long term view to build a corpus.
Money is to be allocated over a period of 6-12 months so investors will need to be patient and expect conservative returns. Let me repeat this is not for short term trading ideas.
As a disclosure we would be investing personally also into the recommended companies.
The communication medium would be via e-mail .
Technical Analysis Training Hyderabad
Date:
1st and 2nd July
Timings:
9 am to 6 pm
Venue :
Door No. 8-2-120/C/198/192, Road Number 2
Banjara Hills, Near Annapurna Studio
Hyderabad, Telangana
Pincode: 500033
Tel: +91 40 4031 9696
Fax: +91 40 4031 9639
Email info@ebonyhotel.in
Fees
Rs 16000 ( Inclusive of Taxes ) ( No Discounts)
Registration and Payment Link
https://www.instamojo.com/analyseindia/technical-analysis-training-hyderabad-1st-an/
Nooresh Merani
Securities covered above:: Welspun Corp, Phoenix Mills, Manapurram Finance & Bharat Bijlee
SEBI Registration disclosure – Investment Adviser ( INA000002991)
Financial Interest:
Nooresh Merani and his family/associates/ analysts do have exposure in the securities mentioned in the above report/article. Author has holdings in Manapurram.
Nooresh Merani and his family/associates/ analysts do not have any financial interest/beneficial ownership of more than 1% in the company covered by Analyst.
Nooresh Merani and his family/associates/ analysts have not received any compensation from the company/third party covered in the above report/article ever.
Nooresh Merani and his family/associates/ analysts has not served as an officer, director or employee of company covered in the report/article and has not been engaged in market-making activity of the company covered in the report/article.
The views expressed are based solely on information available publicly and believed to be true. Investors are advised to independently evaluate the market conditions/risks involved before making any investment decision